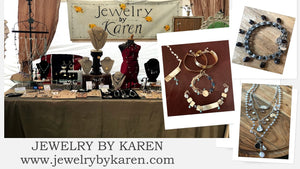 Welcome to our ONLINE STORE!
I have been designing and making custom GEMSTONE, STERLING, BRASS, GOLD and LEATHER JEWELRY for over 20 years! We closed our brick and mortar store in the village of Williamsville NY and have returned to doing ART SHOWS and FESTIVALS!
2023 Show Schedule:
APRIL 1ST, 2ND - DAFFODIL ART FESTIVAL, GLOUCESTER VIRGINIA * JUNE 10TH, 11TH - KEUKA LAKE ART FESTIVAL, PENN YAN NY * JULY 8TH, 9TH - CORN HILL ART FESTIVAL, ROCHESTER NY * JULY 29TH, 30TH - GLEN PARK ART FESTIVAL, WILLIAMSVILLE NY * AUGUST 12TH, 13TH - LEWISTON ART FESTIVAL, LEWISTON NY * AUGUST 19TH, 20TH - HAMMONDSPORT ART FESTIVAL , HAMMONDSPORT NY * SEPTEMBER 9TH, 10TH - ORCHARD PARK ARTS FESTIVAL, ORCHARD PARK NY * OCTOBER 14TH, 15TH- WAYNESBORO FALL ART FESTIVAL, WAYNESBORO VIRGINIA * NOVEMBER 18TH, 19TH - KENAN HOLIDAY SHOW, LOCKPORT NY * NOVEMBER 24TH, 25TH - CAPE MAY HOLIDAY SHOW, CAPE MAY NJ * DECEMBER - TBA
You can purchase our selected products on this website. THANK YOU SO VERY MUCH!
Karen Porterfield